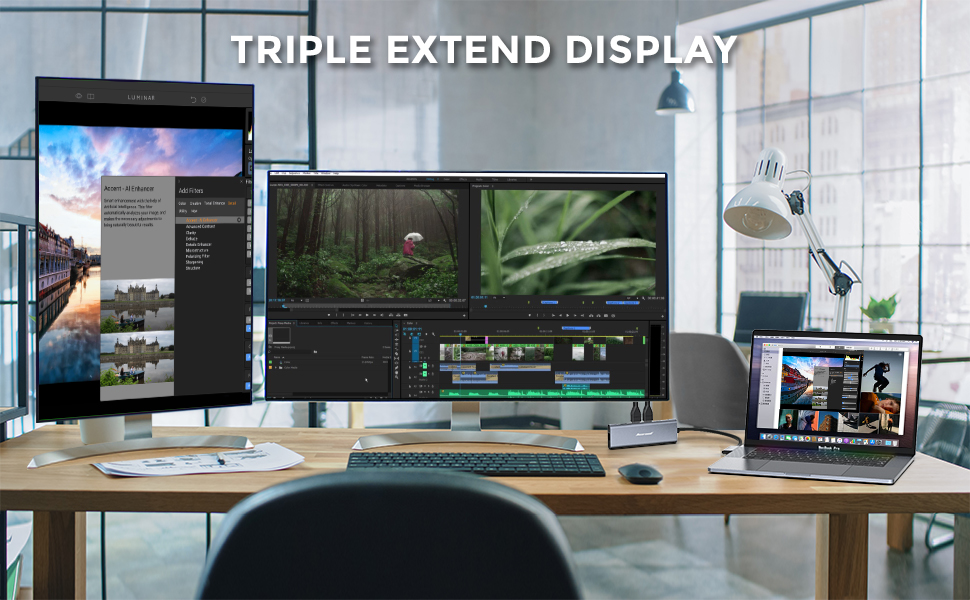 UHD 4K Display

The 9 in 2 Hiearcool USB C Hub, soulmate of UHD 4K monitors, features your need
for immersive viewing.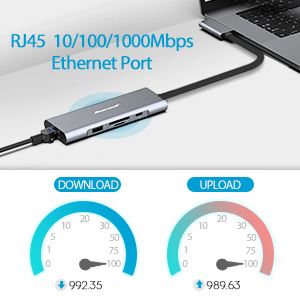 Stable 1 Gbps

Gigabit Ethernet is expected to be deployed as a backbone in existing networks.
With 1 Gbps, you will never go wrong with it.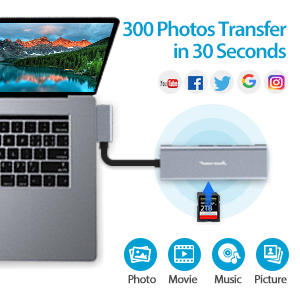 104MB/sec
Compatible with SD, SDHC, SDXC, MicroSD, MicroSDHC, Micro SDXC cards are
supported with up to 104MB/sec. Browse and view photos instantly.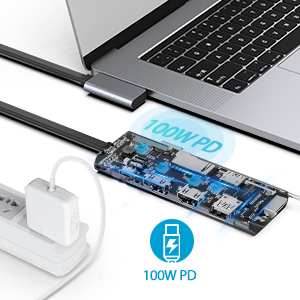 100W PD Pass-Thru



With up to 100W Power Delivery pass-through, this adapter allows you to power
and charge your USB-C laptop or host, simply by connecting the laptop's power
adapter into the USB-C port.
Frist&Ever
The Frist Light-Weight and Portable Macbook Pro/Air USB C Docking station with 4K Extend Mode on the Market.
Perfectly Portable
Slim and light, this adapter is perfect for the home, office, or anywhere in between. Great for mobile workers or those in hoteling or hot-desking environments.
Plug and Play Simplicity
With no need for additional software, this adapter easily attaches to your Macbook Pro/Air to help you connect to achieve multi-screen, more peripherals, and transfer data.
NOTICE:
1.The MacBook M1 chip series are only supporting one external monitor. (MacBook Air M1 2020, MacBook Pro M1 2020,Mac mini M1)
2. Some of the HDMI to DP cable may not have enough power or incompatible with the product for display data transfer.
3. For a stable display result, please plug in the MacBook power supply to the PD port on the docking station before connecting it to the laptop.
4. WINDOWS ARE INCOMPATIBLE.
Setting Up Wired Ethernet with 9IN2 MacBook Air/Pro Docking Station
Step 1. Connect Your Computer to the Network
Plug one end of the Ethernet cable into the network card or port in your Macbook Air/Pro and the other into the Ethernet jack on the wall.
If your Ethernet jack has one orange port, plug your cable directly into that port. If the Ethernet jack has two orange ports, try the one on the right side first, as this is usually the single activated port.
Step 2. Configure TCP/IP
In System Preferences -> Network select Built-In Ethernet from the Show: drop-down menu.
With the TCP/IP tab selected, select Using DHCP from the drop-down menu.
Click Apply Now and then quit System Preferences.
To Achieve 100W PD To Charging the Macbook Pro/Air
1.Connect the OEM power supply to the PD port on the product.
2.Connect the product to the Macbook Pro/Air.